Michael Howland, LJ 2012
President
Linda Lindenmoyer, LJ 2018
President-Elect
Cynthia Griffin,LJ 2011
Secretary/Treasurer
Kathy Miller, LJ 2015
Immediate Past President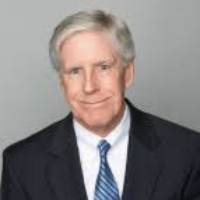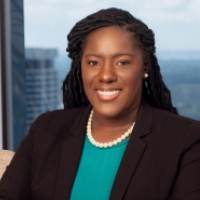 Ashleigh Brooks
NextGen 2018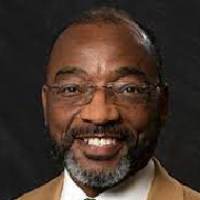 Gracie Simendinger, Chief Executive Officer
Gracie Simendinger joined the Leadership Jacksonville team in August of 2022. Most recently, Gracie led all fundraising strategies for Beaches Emergency Assistance Ministry (BEAM), an organization that provides crisis resources for families in Jacksonville's Beaches community. Prior to BEAM, Gracie was a part of the United Way of Northeast Florida campaign team. She managed all high performing industry partners including financial institutions, accounting, law and architecture firms and was responsible for raising more than $4 million a year. Gracie was later promoted to lead the Tocqueville Society (donors $10,000+), increasing her annual portfolio to $5 million. Before her time at United Way, Gracie ran Jacksonville University's annual fund giving strategies. Gracie currently serves the Jacksonville community as the JAX Chamber Downtown Council Immediate Past President (President 2020-2022), which is now the largest Chamber council, a JAX Chamber Beaches Division board member, and an at-large Women's Giving Alliance steering committee member. Previous community service roles include two years on the JAX Chamber Hightower Emerging Leaders Fellowship board (Class of 2017), four years on the ImpactJAX board (2014 Chair), and leading the annual Painting of the PawPrints community-wide event in 2015 and 2016. A Denver native, Gracie moved to Jacksonville after earning a Bachelor of Science in Marketing from Florida State University. Upon graduating with a Master in Education degree from Jacksonville University, she decided to stay in Jacksonville because of the great weather and the ability to get plugged in within the local community. In her spare time, you can find Gracie enjoying one of Jacksonville's amazing restaurants with her partner Jon or brainstorming her next great travel adventure.

Nicole B. Bryan, Adult Program Coordinator
Nicole Bryan joined Leadership Jacksonville in June 2015 as the Adult Program Coordinator. Nicole is an honors graduate from Hollins University, Roanoke, VA. Her prior work experience includes serving as a development officer for The Community Foundation for Northeast Florida; an assistant vice president for Wachovia Bank, NA in Winston Salem, NC, and as a customer service representative for Enterprise National Bank. Nicole has been an active volunteer in her church and at her children's school, including serving as board chair from 2011-2013 for the St. Mark's Episcopal Day School Board of Trustees. At the school she oversaw a capital campaign, led a head of school search committee, and led a strategic planning committee that completed and implemented a five year strategic plan. Nicole has two daughters, Klare and Bella.

Meg Folds, Programs Director
Meg Phillips Folds (LJ 1999), Programs Director for Leadership Jacksonville, manages Leadership Jacksonville's Youth Leadership Jacksonville and Next Generation programs. Prior to joining Leadership Jacksonville in 2002, Meg had twenty years of sales management in the telecommunications sector. In addition to her professional roles, she has served many community organizations including the Jacksonville Women's Network (President 2022), Junior League of Jacksonville (President 2001-2002), the Rotary Club of San Marco (Charter President), Women's Board of Wolfson Children's Hospital (2021 Art & Antiques Show Chair, Board of Directors), Girls Inc. (Past President), Memorial Park Association Board of Trustees and the Salvation Army as a Celebrity Chef. Meg has been honored to receive the AT&T Community Service Award, Junior League of Jacksonville Pam Paul Award, the Tillie K. Fowler Award, and the Rotary District 6970 Service Above Self Award and Rotarian of the Year. Meg is an alumna of The Bolles School. She graduated from Stetson University with a Bachelor of Arts degree in History and Political Science and did post graduate work at FSU and UNF. Meg is thrilled to be a grandmother to James Davidson Folds; Mom to Chris Folds, Vice President of Fund Development and Community Engagement at Habitat for Humanity of Jacksonville and mother-in-law to Lauren, an accountant at Coastal Construction Products. Meg has recently 'crossed the river' and resides in San Jose with Abby, her yellow Labrador. In her spare time, she loves entertaining and playing Bunco.

Manisha Joshi, Communications Coordinator
Manisha Joshi (aka Jack Leader) joined Leadership Jacksonville in October 2021. She brings an extensive background in marketing, social media and communications and most recently enjoyed working at the Jacksonville Women's Business Center. As a longtime JAX Chamber member, she stays active in the business community with various Councils and projects and serves as the Three Rivers Council Program Chair. Manisha also volunteers and serves on the Jacksonville Women's Business Center Board. Her entrepreneurial background includes owning Style by Manisha, in which she works with small businesses and individuals with their communications, social media, photography, video and wardrobe styling. Prior to that, she was the designer and owner of Sunisha Designs, a handbag accessories company for 13 years, during which she collaborated with local boutiques and produced over 30 fashion shows in Jacksonville. Manisha is also the host of Conversations with Manisha, a YouTube series in which she interviews local change-makers and leaders. She has a B.A. in Social Ecology from the University of California, Irvine and a B.A. in Economics from Mithibai College of Arts in Bombay, India. Manisha loves spending time with her daughter, Saloni (YLJ 2022 graduate) and son, Sohan as well as traveling, photography, watching movies and visiting her former hometown of Orange County, California.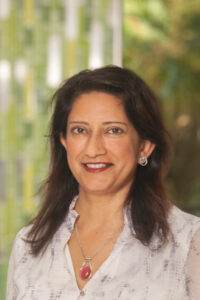 Natalya Rolek, Administrative Assistant
Natalya Rolek joined Leadership Jacksonville in December 2021. Her outstanding customer service stems from years of experience in delivering excellence. It started not long after she came to the United States from Ukraine in September 1998. Her artistic creativity has shown in her entrepreneurial endeavors as the owner of Hold the Door LLC. where she made an array of wreaths, swags and other floral arrangements. Prior to Leadership Jacksonville, Natalya and her husband agreed that she would temporarily be a stay-at-home mom for their newborn, Michael. Coming from a large family, Natalya and her husband David are very family oriented and proud parents of Mark, a student at University of North Florida with a major in Psychology, Nina (YLJ 2023 ) and 4-year-old Michael. In her spare time, she loves to play pool in an American Poolplayers Association (APA) league with David.